Axis control and control electronics
Delta designs, builds and markets single and multiple axis motion controllers, and accessory products for industrial hydraulics, pneumatics and electrical applications, closed loop controls in position, speed and pressure/force.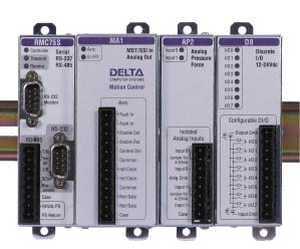 RMC70 1-2 axes data sheet.
RMC150 2-4-6-8 axes data sheet.
Delta and Fizner's mission is to provide high value-added solutions by effectively incorporating the experience gained in products and services:
Motion controllers
Color sensors
Accessories and specialist products
Training and technical support
When you buy one of our products, you receive much more than a great product!
Performance
An unsurpassed combination of theoretical engineering and know-how applied to innovative products that produce high performance.
Adaptability
Attention to implementing industry standards means that we are meeting your requests rather than asking you to change.
Easy to use
We are dedicated to finding products that are easy and intuitive to use, very fast in implementation and start-up.
Service
We strive to be the industry leader in terms of responses and training before, during and after the sale of new and mature products.
Enduring value
We provide quality, reliability and long-term availability. Our policy is to avoid the obsolescence of a product as long as any request continues to exist.